Kaifeng's real scene creates a thousand year old scroll "riverside painting in Qingming Dynasty"
Introduction: "green poplar smoke outside Xiaohan light, Apricot Branches spring." Spring is coming, the leaves are green, the flowers are blooming, and some scenic spots are open in an orderly manner in different regions and levels on the premise of ensuring the prevention and control of epidemic situation. Xinhuanet tourism channel launched a large-scale media theme of "flowers blossom after the epidemic" towards poetry and distance ", focusing on the orderly opening of scenic spots and displaying the most beautiful spring in China.
Qingming shangheyuan scenic spot is located in Kaifeng, the ancient capital of the eight dynasties. It is built according to the famous Chinese painting "Qingming shanghetu" as the blueprint of 1:1. Since its opening in 1998, the Qingming Shanghe garden has always adhered to the development policy of "reappearance of a thousand years of history and construction of a national boutique scenic spot". After ten years of accumulation, the Qingming Shanghe garden officially performed a large-scale live performance "big song · Tokyo Dream China" in 2008. Since then, the Qingming Shanghe garden has created "Yue Fei gun picked little Liang Wang" and "big song · East" with large-scale performance of Song Dynasty as the core Beijing defense war and other core plays. In 2018, the scenic spot received 3.2908 million tourists, with an operating income of 356 million yuan. At the same time of obtaining good economic benefits, Qingming Shanghe park has won many honors, such as China's famous tourism brand, national cultural industry demonstration base, national 5A level scenic spot, China's top ten cultural tourism scenic spots, China's famous brand of tourism culture influencing the world, Henan provincial governor's Quality Award, Henan research tourism demonstration base, etc.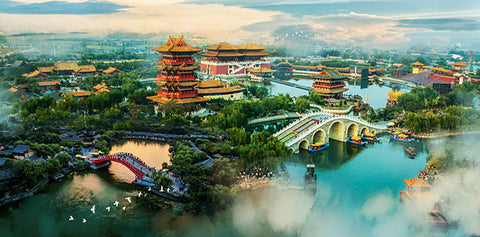 New online Red "Chinese giant horse" interacts with tourists by using special effects such as blinking, jumping up and spraying water. Song tingmeng music, a royal music classic, blends the beauty of Song Ci with the beauty of the four seasons, making people feel the splendid culture of the Song Dynasty; the night tour performance "chrysanthemum beauty" blooms the beauty of the Song Dynasty's women's divine appearance and immortal state; "ten thousand sets of song costumes wear for free" makes tourists experience "my day in the Song Dynasty"; and "night tour in the Qing Dynasty" The park has become more and more popular with tourists. Whether it's "night market in Qingyuan" or "night tour and chrysanthemum appreciation", Qingming Shanghe Park always insists on continuous innovation in night tour products. In addition, the park runs through the whole year with festival activities, such as "Qingming Culture Festival", "Qixi Culture Festival", "Chrysanthemum Culture Festival", which comprehensively enriches the cultural connotation of the scenic spot Festival and satisfies the diversified festival of tourists Celebration needs.